【Christchurch】TranzAlpine Ticket between Christchurch and Greymouth
One Way:Christchurch to Greymouth
Adult:
$211.25→
$190
Child(2-14):
$141.15
→
$123
One Way: Greymouth to Christchurch
Adult:
$211.25→
$190
Child(2-14):
$141.15
→
$123
Same Day Round Trip: Christchurch to Greymouth
Adult:
$351.45
→
$303
Child(2-14):$282.29→
$225
Package Description
Inclusive Of
Round-trip transfer ticket
Two pieces of checked in luggage (weight limitation: 32kg per luggage, 40kg combined)

Not Inclusive Of
Other personal expenses
Insurance
Food and drinks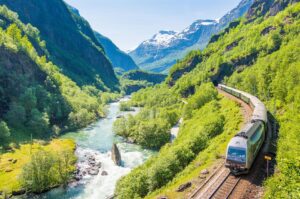 Take in the breathtaking sceneries of South Island's stunning mountains and the vast Canterbury Plains aboard the TranzAlpine, New Zealand's best inland rail service. Watch the scenic views outside from the comfort of a modern and spacious cabin. Travel to South Island's stunning natural wonders by taking a train between Christchurch and Greymouth. Marvel at epic vistas, edges of the ice-fed Waimakariri River, the Southern Alps, and see miles of native beech forests. Running along with a total of 223 kilometers railway, TranzAlpine is one of the best ways to witness New Zealand's breathtaking natural sceneries. So what are you waiting for? Book now and enjoy a scenic and comfortable trip between Christchurch and Greymouth.
Departure Routes & Schedule
Christchurch to Greymouth:
Departure Location: Christchurch
Time: 08:15
Arrive at 13:05
Greymouth to Christchurch:
Departure Location: Greymouth
Time: 14:05
Arrive at 18:16
Please arrive at the station atleast 20 minutes prior to your scheduled depart time
The departure time may change due to weather conditions and other unforeseen circumstances
Luggage Information
Pets and large items such as skis, surfboards, wheelchairs, and golf bags can be accommodated. Please indicate any pets or large items at checkout
Maximum of 1 standard luggage and 1 handbag per person
Luggage Weight Limit: No single bag may weigh more than 32kg or 71lbs
Extra fees may apply for oversized and/or additional luggage. Please pay any extra fees directly to the operator
Wheeled bags and cabin bags are not allowed inside the carriages and must be checked in. Please bring a small bag for your small items
Bags over 32kg will not be accepted and must be repacked for an extra charge
Maximum volume per bag is 200cm. This can be calculated by adding the height, length, and width of the bag all together
Additional luggage, bikes (maximum of 2, subject to availability), other large items: NZD20 per piece
Repacking charges: NZD10 for bags over 32kg
Bikes with trailers (maximum of 1, subject to availability): NZD50
Eligibility
Children aged 0-14 must be accompanied by a paying adult
Children aged 0-1 can travel free of charge provided they will not occupy separate seats
Child ticket: Age 2-14
Additional Information
Smoking is forbidden inside the train
Passengers are prohibited from drinking alcoholic beverages inside the trains. Alcoholic beverages must be stored inside your luggage during the trip
This vehicle is stroller and wheelchair-accessible
If you would like to stop over at any intermediate station during the journey, please indicate your leaving station and departure date upon check out
The departure times are fixed daily. There are no extra fees for stop overs at intermediate stations
Pet Policy:
Only certified assistance dogs are allowed and must wear an identification tag with the owner's name, address and telephone number
During the trip, your dog must be restrained by its lead and seated on an absorbent mat which you'll need to bring with you
You will need to prepare your dog for the journey by exercising and limiting its fluid intake for several hours before boarding the train
Address
Christchurch Railway Station
Christchurch Railway Station, Addington, Christchurch, New Zealand
How to get there: Take bus No.120 to Whiteleigh Ave near Troup Dr. Then, take a 5-minute walk towards the station
Take in the breathtaking sceneries of South Island's stunning mountains and the vast Canterbury Plains aboard the TranzAlpine, New Zealand's best inland rail service. Watch the scenic views outside from the comfort of a modern and spacious cabin. Travel to South Island's stunning natural wonders by taking a train between Christchurch and Greymouth. Marvel at epic vistas, edges of the ice-fed Waimakariri River, the Southern Alps, and see miles of native beech forests. Running along with a total of 223 kilometers railway, TranzAlpine is one of the best ways to witness New Zealand's breathtaking natural sceneries. So what are you waiting for? Book now and enjoy a scenic and comfortable trip between Christchurch and Greymouth.

Departure Routes & Schedule

Christchurch to Greymouth:

Departure Location: Christchurch
Time: 08:15
Arrive at 13:05

Greymouth to Christchurch:

Departure Location: Greymouth
Time: 14:05
Arrive at 18:16
Please arrive at the station atleast 20 minutes prior to your scheduled depart time
The departure time may change due to weather conditions and other unforeseen circumstances

Luggage Information

Pets and large items such as skis, surfboards, wheelchairs, and golf bags can be accommodated. Please indicate any pets or large items at checkout
Maximum of 1 standard luggage and 1 handbag per person
Luggage Weight Limit: No single bag may weigh more than 32kg or 71lbs
Extra fees may apply for oversized and/or additional luggage. Please pay any extra fees directly to the operator
Wheeled bags and cabin bags are not allowed inside the carriages and must be checked in. Please bring a small bag for your small items
Bags over 32kg will not be accepted and must be repacked for an extra charge
Maximum volume per bag is 200cm. This can be calculated by adding the height, length, and width of the bag all together
Additional luggage, bikes (maximum of 2, subject to availability), other large items: NZD20 per piece
Repacking charges: NZD10 for bags over 32kg
Bikes with trailers (maximum of 1, subject to availability): NZD50

Eligibility

Children aged 0-14 must be accompanied by a paying adult
Children aged 0-1 can travel free of charge provided they will not occupy separate seats
Child ticket: Age 2-14

Additional Information

Smoking is forbidden inside the train
Passengers are prohibited from drinking alcoholic beverages inside the trains. Alcoholic beverages must be stored inside your luggage during the trip
This vehicle is stroller and wheelchair-accessible
If you would like to stop over at any intermediate station during the journey, please indicate your leaving station and departure date upon check out
The departure times are fixed daily. There are no extra fees for stop overs at intermediate stations
Pet Policy:
Only certified assistance dogs are allowed and must wear an identification tag with the owner's name, address and telephone number
During the trip, your dog must be restrained by its lead and seated on an absorbent mat which you'll need to bring with you
You will need to prepare your dog for the journey by exercising and limiting its fluid intake for several hours before boarding the train

Address

Christchurch Railway Station

Christchurch Railway Station, Addington, Christchurch, New Zealand
How to get there: Take bus No.120 to Whiteleigh Ave near Troup Dr. Then, take a 5-minute walk towards the station
Note:
All prices are quoted in Australian Dollars and include GST
If purchase one ticket only – Please email us to arrange it for you (Email address: info@delightfultravelaus.com)
Please read the terms and conditions below the website before you purchase
 This product  non-refundable once booked
Children under the age of 16 years must be accompanied and supervised by an adult (18+) for the duration of the tour