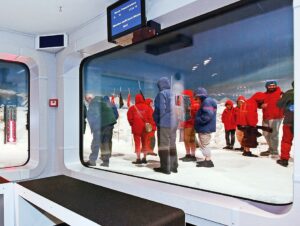 The International Antarctic Centre located right in Christchurch, New Zealand, opens its doors to visitors looking to uncover the frozen lands located at the farthest regions of the world, in inhospitable climates where only a few species can manage to survive. In spite of the somber topic it undertakes, the center aims to promote learning and education about this region through the use of the fun and interactive activities found within. No matter the age of the participant, they'll discover something new and fascinating about the Antarctic through a snow and ice experience unlike any other. Don't miss the Antarctic Storm simulation, hang out with the Little Blue Penguins, and experience everyday life in modern-day Antarctica. Lose yourself in the world of icy discoveries in the center!
Additional Information:
Child ticket: Age 5-15
Children aged 0-4 can join for free (A single paying adult can bring a maximum of 3 children in this age range)
For safety reasons, children must be aged 5+ in order to ride the Hagglund. All children aged 0-7 must be accompanied by an adult on the Hagglund. Children aged 0-3 are prohibited to board the Hagglund
For visitors en route to and from the airport, coin-operated secure luggage lockers are available for hire outside the front of the attraction. Charges for luggage lockers are NZD2.50 for up to 3 hours or NZD3.50 for up to 5 hours
Audio Guide tours are available in English, Mandarin, Japanese, Korean, Thai, German, French, and Spanish
No need to worry about bringing any warm clothes when you visit the attraction as we have jackets and overshoes for you to wear
The center is PWD-accessible
Cancellation Policy:
Non Refundable , For Trips affected By COVID-19, it can be extended within 12 Months to use the credit. Fare Difference will be charged for High season.
Opening Hours:
Address:
How To Get There:
The free Penguin Express Shuttle departs from the city for the attraction from outside the Museum on Rolleston Ave at 9:00am, 11:00am. 1:00pm, and 3:00pm